Have you ever been in a meeting where someone turns to you and asks you to take notes on the conversation?  If you are a woman, I bet this has happened to you more times than you can count.  This is one of those unconscious bias' that seems to have persisted through the decades.  What make a woman more capable of taking notes than a man?  Nothing. 
If you are a man in the room and you observe this interaction, if you step in and offer to take notes, challenge the person handing out that specific task on their process of selection or come up with a neutral approach to selecting the daily note taker, then I would call you an advocate. 
When you are an ally and being an advocate, you work in the moment to observe behaviors that might either be excluding the minority representative in the room or singling them out. 
Very often when there is only "one of" a minority, a woman, a black, a native American, LGBTQ+ individual, etc, and there is some behavior directed towards that individual as consequence of their association with that group, the majority group will lean on that person to represent their group. An advocate, who is not also associated with that same group, will take intentional action in that moment to stand with the individual and or stand on behalf of the "group" so that the burden of representation does not unfairly fall onto the person who is a member of that group.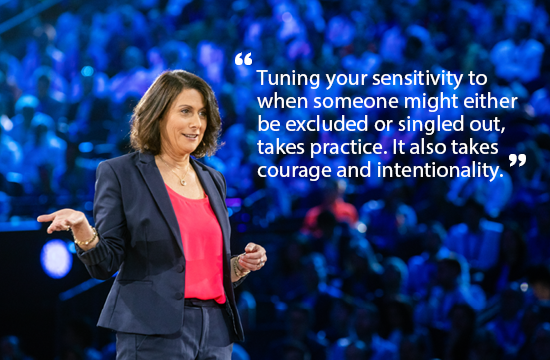 Let me give you another example.  At the start of the meeting, very often there is chatter among participants.  That chatter can take the form of inclusive chatter that applies to everyone in the room or exclusive chatter that might be political or sports oriented or even child oriented that by the nature of the topic will exclude some participants in the room.  An advocate will take the action to notice those who are being excluded and will either work to shift the conversation to something more inclusive or point out, that the current discussion does not appear to be inclusive and suggest a new topic of discussion. 
This type of ally behavior is very subtle and can often go unnoticed by most of the people in the room.  Or sometimes this type of ally behavior can take a tremendous amount of courage on the part of the ally to speak up.  Either way, this behavior will always be noticed and appreciated by the individual who "in that moment" could use an ally. 
Tuning your sensitivity to when someone might either be excluded or singled out, takes practice.  It also takes courage and intentionality.  When an individual does work with intention to observe and act in this way routinely, it does get easier over time and mitigates that impact that these subtle and unconscious microaggressions can have on the minority representative – in my case, the only woman in the room.
I want to share the story about Melissa and Rune.  Melissa was a strong, competent leader in her field developing new and innovative ways to showcase how organizations could build profitable partnerships with Microsoft.  She was building content and concepts that could make meaningful impact on businesses and the CEOs that ran them.  But there were many times when Melissa was the only woman in the room, speaking and directing the conversation to a room full of male CEOs.  She would feel outnumbered and sometimes the responses would shake her confidence.  Rune was one of the CEOs in the room and an ally.  He practiced being an advocate.  He was attuned to look out for those microaggressions and moments when he could practice being an advocate.  I want to introduce you to both Melissa and Rune to share with you more about their story.
The many times that Rune acted as an advocate and ally to Melissa enabled them to form a strong working relationship.  Melissa is now the CEO of Crayon and Rune the co-founder has moved onto to focus on being the chairman of the board.  Thanks to the many years of allyship and sponsorship from Rune, and kudos to her leadership, Melissa is now successfully running and leading that organization onto transformation and innovation. 
Tell us, who are your allies?  What have they done to support you?