When I first met Isa Mendes, she was looking for her first big opportunity in the tech industry. She was struggling. After graduating from the University of Sao Paulo in Brazil, she felt trapped in the IT jobs she had landed. Isa wanted to be a product and program manager, but she wasn't getting the opportunities. Time and again, her ambitions were dashed by hiring managers and recruiters unwilling to take a chance on her.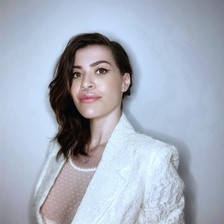 "I feel like I have the resume, the skills, and the desire, but no one will give me an opportunity," Isa told me. "I feel defeated, and I'm worried I'll never get an opportunity."
It was a familiar story. Many young women I've mentored over the years have suffered the same rejection. I can relate to the self-doubt that had crept into her mind. We all can, can't we? Think back to a time you knew you were the best person for a job, but you were told you just didn't have what it takes.
What stood out to me about Isa—in addition to her energy and her drive—was her vulnerability. Although her confidence had taken a hit, she was truly interested in learning, growing, and understanding how to break-through. I remember telling her she wasn't alone and that she needed to believe in herself.
We talked about what she wanted to do and we came up with a strategy. She applied for an internship program at Microsoft, and absolutely shined. When the internship was over, we hired her for a full-time position.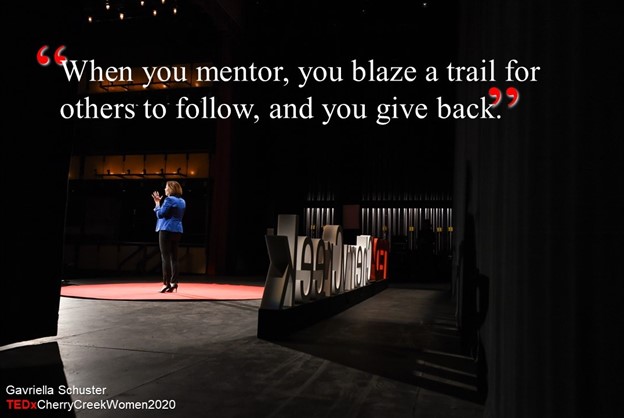 Mentors have played a key role in my success in the technology industry. I wouldn't be where I am today without the many men and women who have mentored me along the way. They have shared the value of their successes and their failures and have helped me avoid the invisible trip wires and unwritten rules of business. They have lifted me up when my confidence waned.
To return the favor, I've always made a point of mentoring others and sharing my own experiences—the good and the bad. I've had people tell me that the 30 minutes I spent with them changed their perspective dramatically. And oftentimes, that introduction to one of your contacts, can lead to a job, career change and become a life changing pivotal moment for someone else.  As I see it, when you mentor, you blaze a trail for others to follow and you give back.
In my recent TEDx Talk, BeCOME an Ally: How to achieve gender equity, I talk about mentorship as a key component of the BeCOME framework I developed to help all of us become allies, leaders, and agents of change. I outline four actions each of us can take to help bring 4 million more women into the technology industry. That's how many we need to reach gender equity in high tech.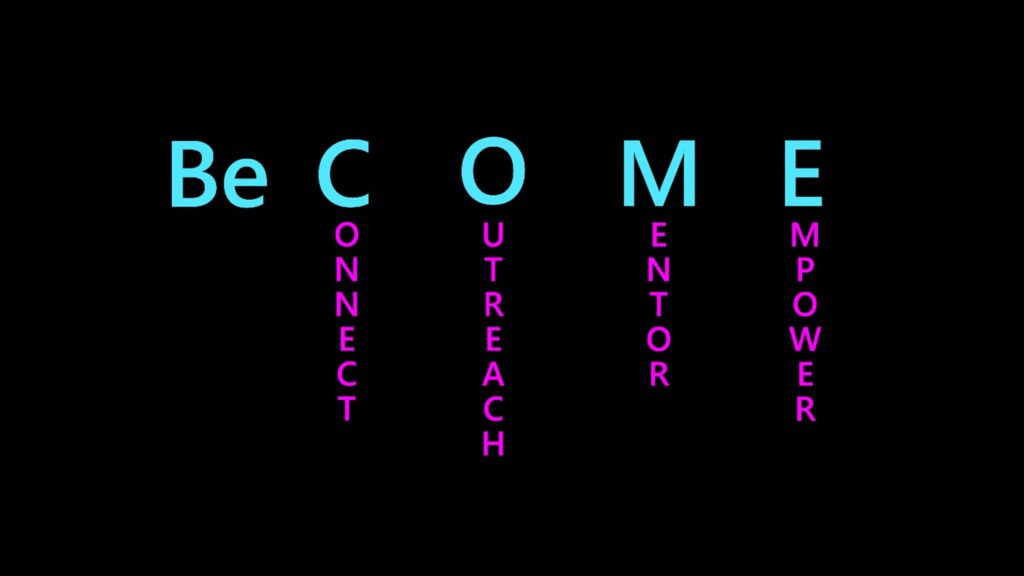 In a recent LinkedIn article I talked about Connection, and how we can move the needle by opening our networks and creating access points for women to connect with business leaders and with one another. In another piece about Outreach, I shared how we can create opportunities for women by examining our recruiting and hiring practices—screening-in candidates for diversity rather than screening-out for expediency. Being a Mentor is the third action we all can take.
According to Chronus, a technology learning organization, 71% of Fortune 500 companies offer mentoring programs to their employees. They understand mentorship benefits everyone: Studies show that good mentoring leads to greater career success for the person getting the advice. The person giving the advice broadens their network and can strengthen their position as a leader. And mentorship benefits organizations by developing a culture of learning and growth, which increases employee engagement and attracts high-quality talent.
In my team at Microsoft, we talk a lot about the importance of mentoring—not just for early or mid-career employees, but for senior employees as well. As a Corporate Vice President, I currently have multiple mentors I look to for advice. I call them my personal advisory board and reach out to each based on their experiences and skills.  Most of them are former colleagues who know what I may be working through but are now far disconnected from the organization so they can provide me objective guidance and coaching.  
How can a mentor help?
In my experience, a mentor is typically someone who has experience you'd like to learn from.  You may turn to a mentor when you want to learn how to work with different people in the industry, how to navigate the sales organization, or to learn more about specific roles. 
Most often, people think of working with mentors only when they're planning their next career move.  But I've personally reached out to mentors to gain their perspective on a challenge I'm facing in the business and to understand how they would handle it based on their experience.
And it's not uncommon to have several mentors at once, for different reasons.  When I moved from licensing sales and marketing into product management, I picked two mentors – one in product planning and one in engineering. That way I could understand the perspectives of the people I would be working with and also have a sounding-board from someone with experience overcoming the challenges I would face. 
Mentoring—and being mentored—is a beautiful and fulfilling endeavor. It is a simple action you can take to bring light, energy, and focus to someone's life. And I know first-hand it is a key component to bring in and retain more women in the technology industry.
I'm sure Isa would have eventually gotten the break she was looking for. But I am so grateful I was there when she needed some guidance and a confidence boost. When she said she wasn't getting anywhere with recruiters and hiring managers, I told her, "Don't listen to them! Listen to yourself. Believe in yourself. If you think you're ready, be bold and don't take no for an answer." I encourage you to be that light for someone else. It's a wonderful feeling.
Isa told me later that our mentoring sessions inspired her to launch her own mentoring circle for early career employees—specifically for women and minorities. Isa, thank you for giving back and blazing a trail for others to follow.
Be sure to watch for my next #BeCOME LinkedIn article where I'll share the fourth action each of us can take to drive for gender equity in tech and BeCOME agents of change: Empower others.