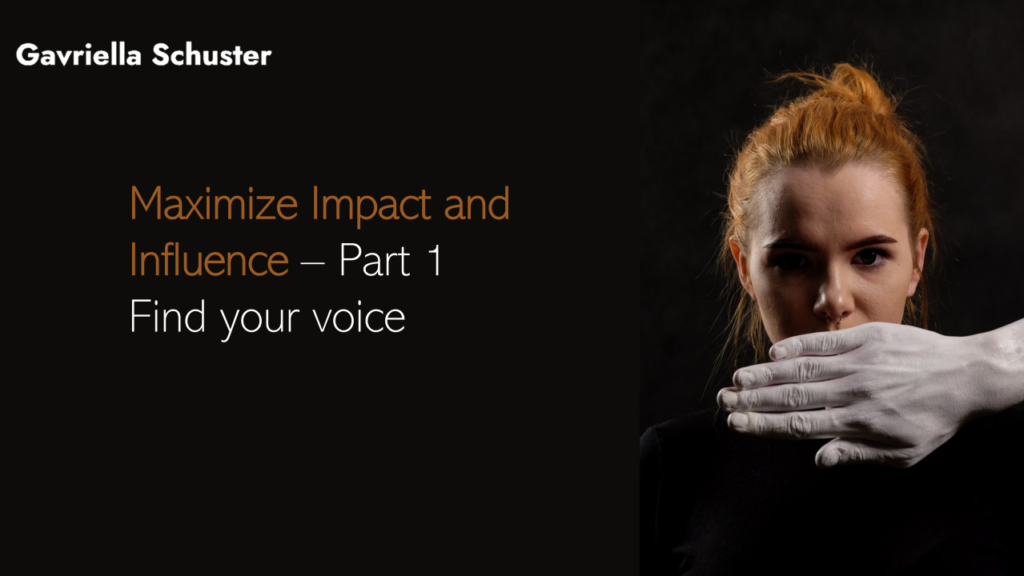 Over the course of my career, I've had ups and downs, successes and failures. There have been moments of confidence and feelings of incompetence. That's part of the evolution we all go through over time, right?
I've been thinking a lot recently about a message I shared a couple years ago at the Women in Cloud Summit and the SHE Conference in Norway about encouraging people to speak up from a place of authenticity. It is a personal philosophy that took me years to develop — and I believe it unlocks individual effectiveness, and in turn, collaborative success. There are three parts to this philosophy that can help you maximize your influence and impact. Over the next three days I'll be sharing each part of this philosophy.
Find your voice
The first part is about introspection and being able to answer these three questions:
Who are you?
What do you stand for?
What do you want to be known for?
Simple questions. Tough to answer…
Who are you? What matters to you? Not what matters to others. What matters to you? We are constantly bombarded with opinions about how we should think and what we should do. When I had my first child, everyone weighed-in with the "best way" to do this or the "wrong way" to do that. But I remember thinking, "This is my child. I'm going to do things the way I want to do them." So, what is important to you? It is important to find your own point of view – it may be completely unique or an amalgamation of everything you have seen, heard and read. But when you integrate it, it becomes your point of view.
What do you stand for? What are your passions and what do you believe in? Have you thought about what you want to accomplish in your career or your personal life? This is about identifying your personal principles and being clear about your feelings on various topics.
What do you want to be known for? Your values, your ideas, your successes? What is your brand and how do you want people to talk about you when you're not in the room? This is different than trying to manage "an image". An "image" is about trying to optimize what people see. What I'm talking about is how you get comfortable and clear on your strengths, your superpowers, and what makes you unique and standout. It has to be utterly authentic. This is your brand.
Answering these questions takes a lot of introspection and commitment. But I've found the exercise to be very rewarding. Finding your voice and discovering your perspective on things is the first step in making a personal impact on the world.