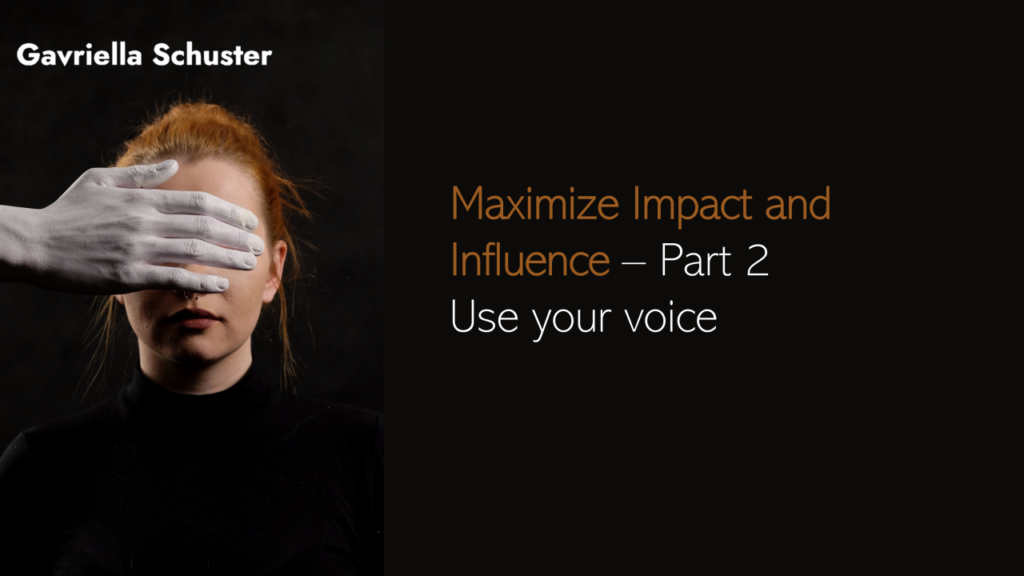 Yesterday I posted part one of my philosophy to Maximize Impact and Influence – Find your voice. Finding your voice and discovering your perspective on things is the first step in making a personal impact on the world.
Today, I am sharing part two – Use your voice
Once you find your voice, you need to use it. Have you ever been in a meeting where everyone is agreeing on whatever is being discussed, and you're thinking, "Wait a minute. Am I the only person here who thinks this is the wrong move?" Did you say something, or did you hold yourself back?
I've talked many times before about everyone having their own unique perspective. Based on your background and your lived experiences, you inherently see things differently than others. That perspective is valuable. So, share it! That's why you were invited to the meeting. Build-up the courage and the conviction to speak up. Sharing your opinion may lead to conflict. But don't let that stop you from leaning-in, because disagreements lead to innovation.
Of course, learning how to use your voice effectively is easier said than done. It takes many people outside of their comfort zone. So, here are 5 things to help you overcome the challenge:
Give yourself the freedom to be yourself and the grace to fail
Get over your fear of being yourself
Silence the negativity in your head
Get comfortable with being vulnerable and be willing to poke fun at yourself
Let go of the expectations others have placed on you
And make sure you practice. Like anything, the more you use your voice, the more effective you'll become. Start in small groups where you feel safe sharing your opinion. You'll get more comfortable bringing your opinion to the table. And as you practice, your voice will grow stronger, your confidence will build, and your opinions will become clearer.